MY STORY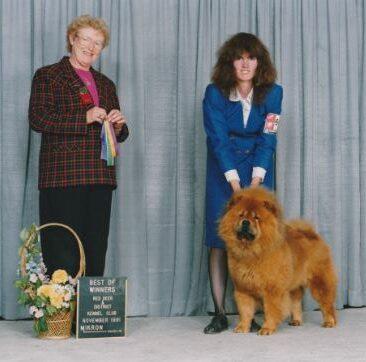 First of all, let me introduce myself. My name is Dawn. I have been involved in various online platforms to make money online since January 2003.  At that time I became an eBay seller. I started out selling vintage toys and antique children's books. In no time at all, I had achieved power seller status. This came with a lot of hard work and late nights. Prior to that time, I managed 2 of my own businesses, a Pet Grooming business and a Boarding Kennel business.   My passion at the time was raising and showing purebred chow chows and German Shepherds. These businesses I started when I was in grade 12 and after 34 years I retired due to health reasons.
After retiring I became interested in the idea of creating a passive income and started to research various programs. I first made a list of requirements that the program I would use had to meet. That is when I narrowed my search to affiliate marketing. I was already selling on eBay and doing well but it was not passive income. That is when I stumbled across affiliate marketing during my research.
I found an affiliate marketing platform that met all the requirements on my list. It provided training that was above my expectations and was affordable. This program helped me to get my business up and running without the frustration that a lot of beginners experience. This is what motivated me to start this website. So you too, can start your own affiliate marketing business and enjoy the journey like I have been able to.
THE GOAL OF AFFILIATE MARKETING HOME BUSINESS.COM
I have been where you are right now. It can be a little intimidating when you consider all the information on the web about affiliate marketing. It is time-consuming to sift through it all to find the affiliate programs that are legit (not scams). What was most important to me when starting was to find an affordable program. I hope you find that the resources on my website help you to jump-start your affiliate marketing journey and make it a fun and exciting adventure.
I remember the feelings I had when beginning my journey of building my affiliate marketing business. I spent months doing research to help me make an informed decision when starting my online business. I had a limited income that I was willing to spend at the time. My goal was to prove to myself that I could build this new business venture with a budget of $100.00 a month and a lot of hard work.
When I started my pet grooming and boarding kennel businesses I started them with very little money. It took a lot of hard work, and I would reinvest the money back into the businesses when I first started. I did the same with my eBay business. So with my past business successes, I proved to myself that a business can become a success because of the hard work that you are willing to put into it. It is not necessarily by how much money you have to invest into it at the start.
On this website, I will provide you with how-to articles, top 10 lists, product reviews, freebies, recommendations on the resources that I use, and other nuggets of useful information. I hope that this website will become a valuable asset to you as you begin your exciting affiliate marketing journey.
THE NUMBER ONE RESOURCE I USE IN MY BUSINESS
The number one resource that I use in my affiliate marketing business has everything I need, all on one website platform.
I have built 5 affiliate websites on this platform and it has provided all the website hosting, tools, and training that I needed.  It offered a free membership so I could give the training a test drive to see if it could really answer all my questions and produce positive results that would get my business up and running.
I started with the free membership which allows you to develop 1 website for free and provides you access to the 1st module (10 lessons) of the Affiliate Bootcamp and the 1st module  (10 lessons) of the Online Entrepreneur Certification.  Before I even finished the first 2 lessons in module 1 of Affiliate Bootcamp my website was Google listed and that is all I needed to know to realize that I stumbled onto something great.
If you would like to give it a test drive with a free trial as I did, just click the red sign up now button below.  That way you will see the value that the Wealthy Affiliate Training offers for yourself. You can also read my Wealthy Affiliate Review by clicking the Redlink at the bottom of this page.

MY CREDENTIALS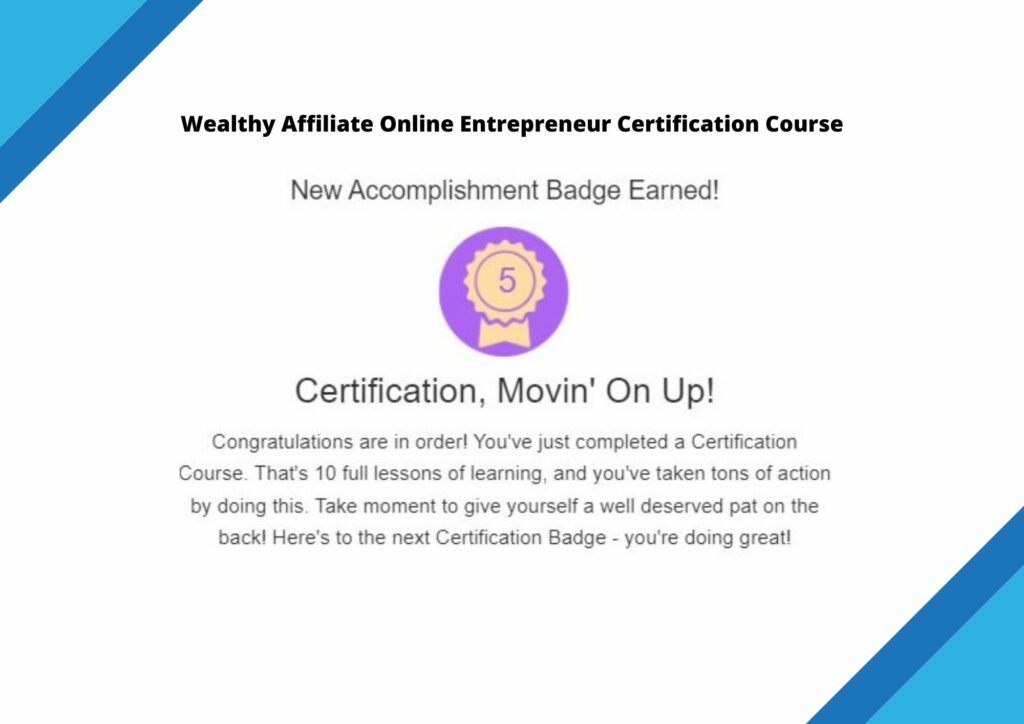 Wealthy Affiliate New Accomplishment Badge Earned
Successfully finished all 5 levels in the Wealthy Affiliate Online Entrepreneur Certification Course
Earning Badge 5 New Accomplishment Badge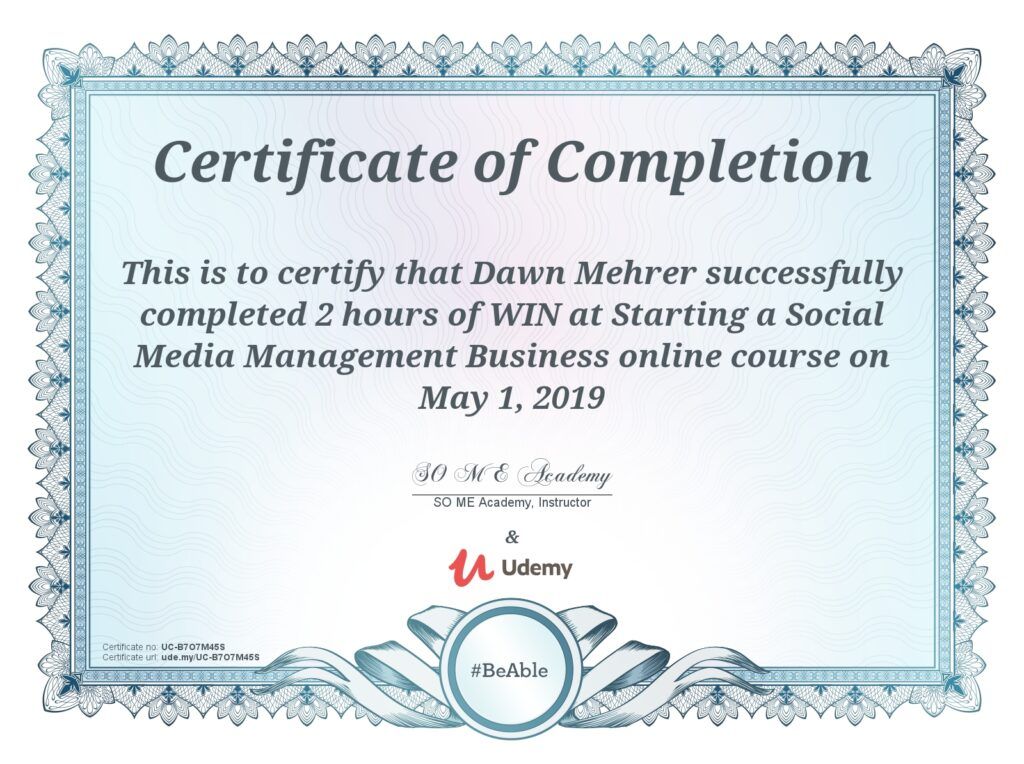 Certificate of Completion
This is to certify that Dawn Mehrer successfully completed
"Win at Starting a Social Media Management Business"
Awarded By Udemy on May 1, 2019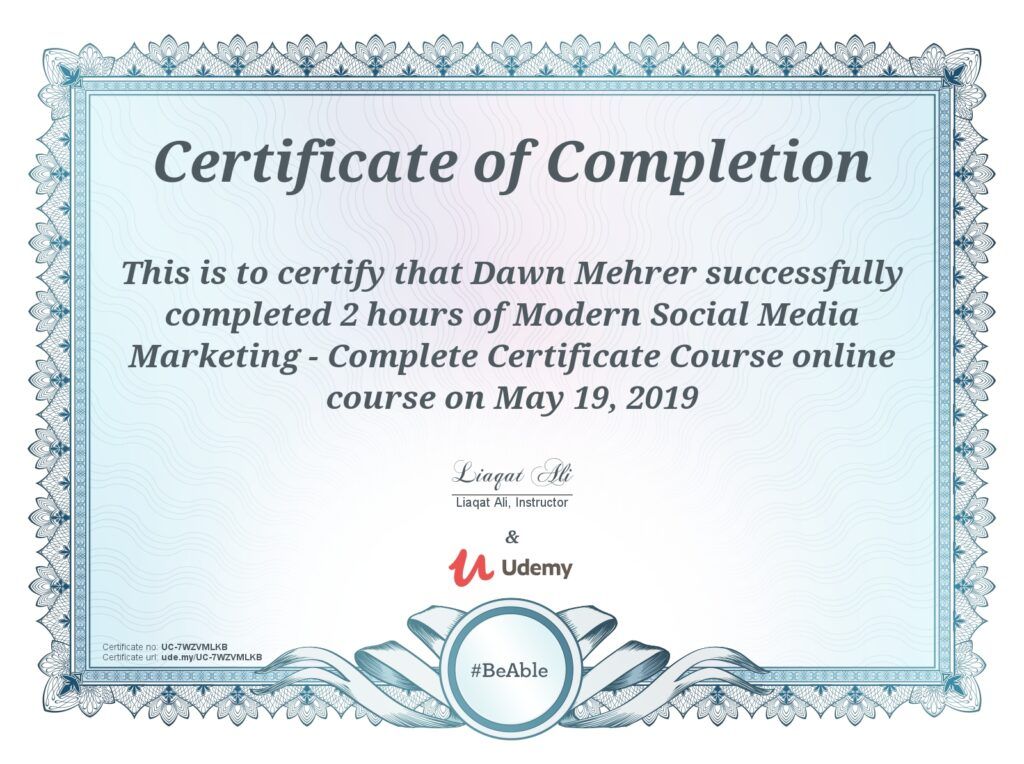 Certificate of Completion
This is to certify that Dawn Mehrer successfully completed
"Modern Social Media Marketing"
Awarded By Udemy on May 19, 2019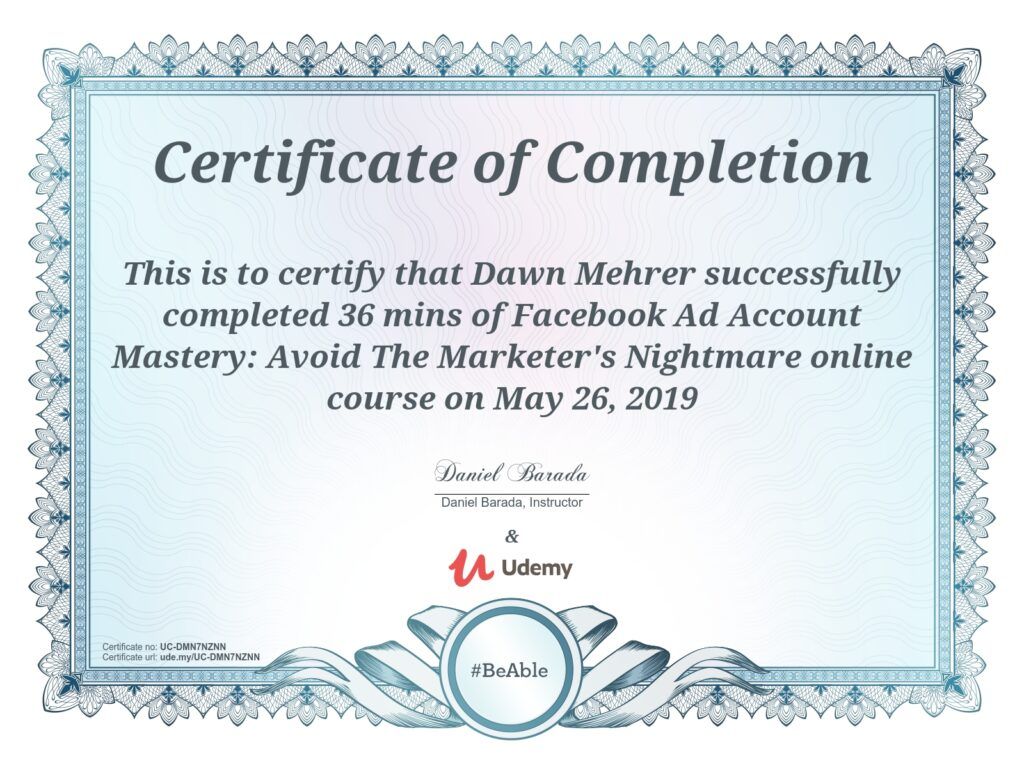 Certificate of Completion
This is to certify that Dawn Mehrer successfully completed
"Facebook Ad Account Mastery: Avoid The Marketer's Nightmare"
Awarded By Udemy on May 26, 2019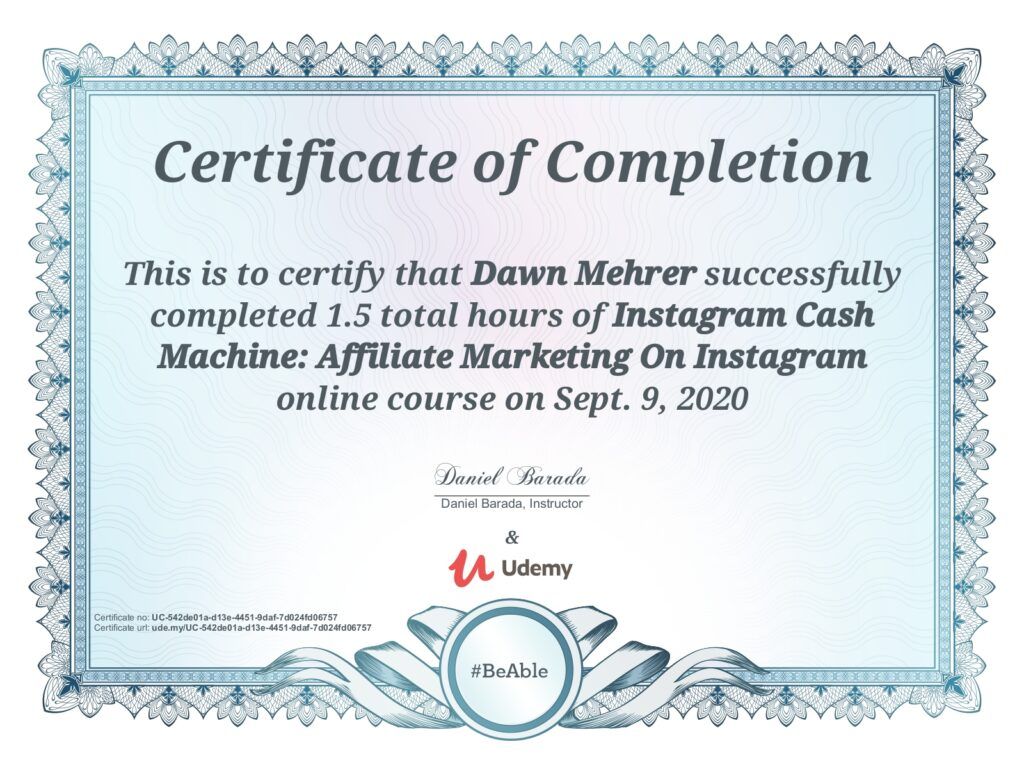 Certificate of Completion
This is to certify that Dawn Mehrer successfully completed
"Instagram Cash Machine: Affiliate Marketing On Instagram"
Awarded By Udemy on September 9, 2020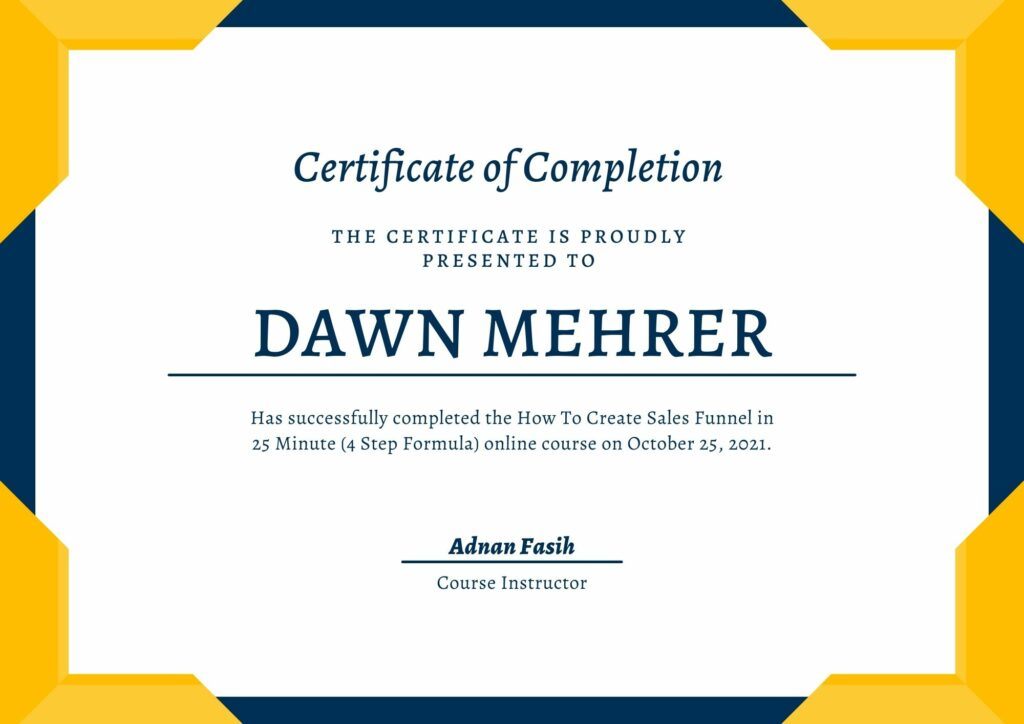 Certificate of Completion
This is to certify that Dawn Mehrer successfully completed
How To Create Sales Funnel in 25 Minute (4 Step Formula)"
Awarded By Adnan Fasih October 25, 2021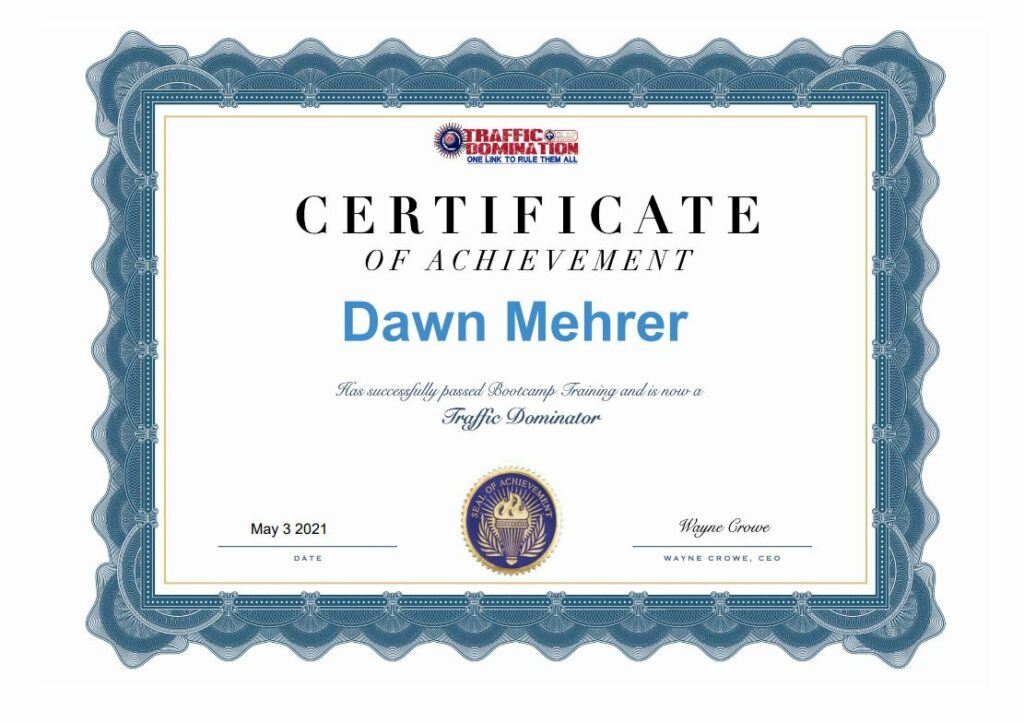 Certificate of Achievement
This is to certify that Dawn Mehrer successfully passed
Bootcamp Training and is now a Traffic Dominator
Awarded By Traffic Domination May 3, 2021, 2021
C

lick on the red links below if you would like to learn more about Affiliate Marketing.
HOW TO MAKE MONEY ONLINE WITH AN AFFILIATE PROGRAM IN 2022 – MY WEALTHY AFFILIATE REVIEW
WHAT IS AFFILIATE MARKETING FOR BEGINNERS?
All the best, and have fun learning,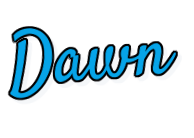 AffiliateMarketingHomeBusiness.com